Our education program offers anglers a variety of opportunities to better themselves not only as a Pyramid Lake angler but a fly fisherman in general. We take pride in our ability to help and teach anglers of all abilities the sport of fly fishing, we hope one of our programs will fit your needs. Our guides and instructors have been teaching anglers the art of fly fishing for a long time. Our resume over the years includes Top to Bottom tactics for trout and wintertime clinics on the Truckee, advanced still water outings at Smith Creek Ranch,  Davis Lake and South Fork Reservoir weekend outings and Spring Creek weekends at Goodrich Creek. Our knowledge of fly fishing is vast and our ability to handle larger groups is 2nd to none.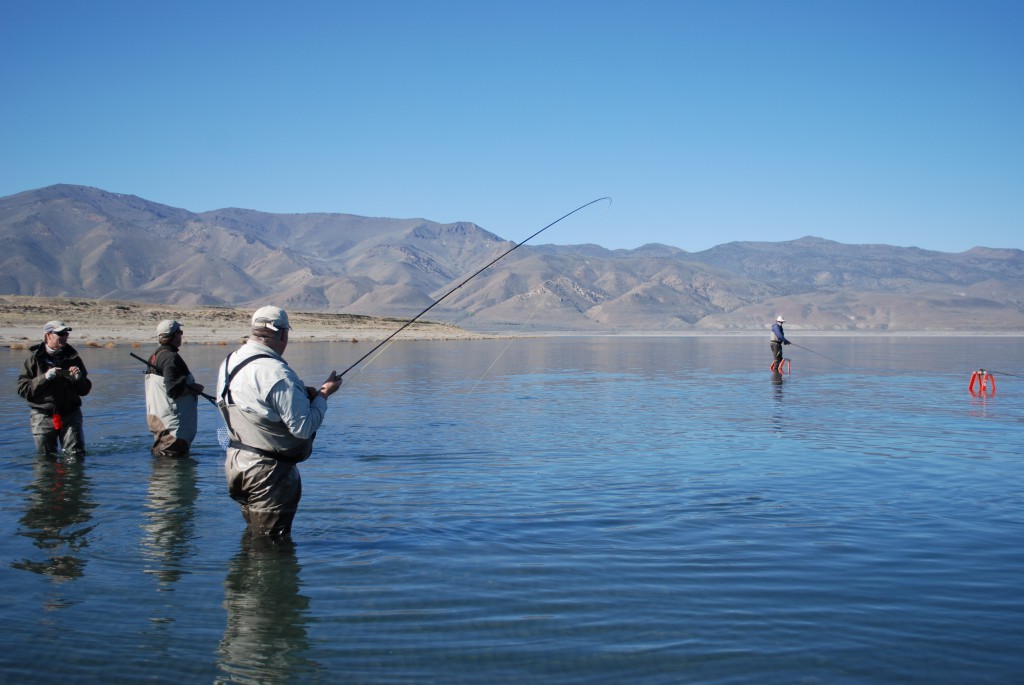 Pyramid Lake Float Tube Weekend $250 (
October 8-9 2016

) Sold Out!

Pyramid Lake has long been known for its huge Lahontan Cutthroat Trout and its peculiarity of anglers standing in a lake fishing from ladders. Although "Ladder Fishing" is still the most popular way to fish Pyramid Lake, the introduction of the Pilot Peak strain of Cutthroat Trout in 2006 has helped put float tubing back on the map at the lake. The Pilot Peaks tend to chase bait near shore in both early fall and late spring. Due to this, they have broadened our effective fishing season when the old Summit Lake strain are hanging out in much deeper water.

Over the last two years we have had some great fishing at the lake from pontoon boats and float tubes in October/November and again in May and early June. So this October we are going to give anglers an opportunity to learn how we fish for giant Lahontans in warmer water later in the season. We will cover a wide variety of topics including gear, safety, techniques, location and how to use the lake and the varying weather conditions to your advantage.

Come join us for a really fun weekend on the lake and get a chance to catch a fish of a lifetime.

When: October 8th-9th

Where: Pyramid Lake

Cost: $250 per angler

Contact: Rob Anderson 775.742.1754 rob@bucketlistflyfishing.com

Corporate room rates available at the Nugget Resort for $39 a night and $79 a night. Contact Jarre' Payne for rooms at 775.356.3455 or 800.843.2427 Ext. 3455

October is also a great time to camp at Pyramid Lake ($15 a night).

What's included: Weekend on the water with our veteran guides, Lunch both days, some gear and swag from our numerous sponsors, corporate room rates at local hotels ($39) and a really fun weekend on the water.

What is not included: Tribal Fishing Permits, float tube or pontoon boat. Tips and Gratuities.
1 1/2 Day group outing/clinic – $125 per angler (
February 17th 18th 2017

)

These events are action packed and designed to help anglers of all levels. Not only do we spend an entire day on the water but we also take extra time off the water the evening before the outing to cover tons of information out of the weather indoors. This will ensure that weather that we are accustomed to fishing in at the lake does not present a problem while tying knots and learning new techniques. This also allows anglers participating to get lots of fishing time in at the lake. We will cover all major techniques for fishing Pyramid and go over rigging, flies, time of year, areas etc. Anglers will walk away from this outing with a much better handle on how to fish Pyramid Lake. This is a great way for the budget conscious angler to learn the ropes of Pyramid lake.

Included: Powerpoint Presentation the evening before the clinic. All necessary gear including rods, flies, ladders, stripping baskets, leaders etc. We will also serve a hot lunch. A hot meal at the lake can rejuvenate the soul and warm up your bones.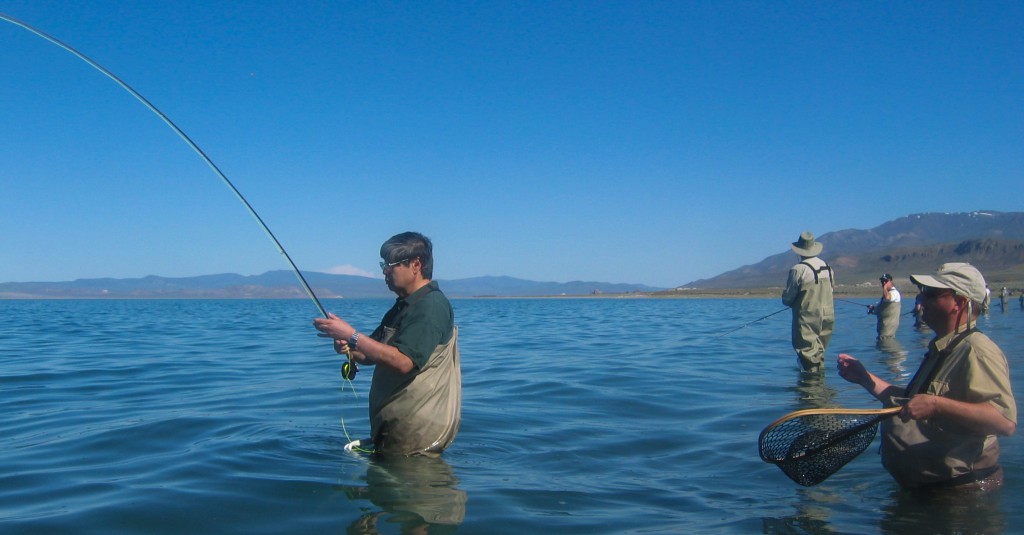 Two day Pyramid Lake Private Tours – $395 per angler (2-3 angler max.)
One of the more creative ideas for learning a new water. The tours offer anglers a chance to take a two day trip to the lake with a guide in a more intimate setting. Learn the layout of the entire lake and get to check out and fish some of our out of the way locations. Not only will we teach all of the skills and techniques associated with fishing at Pyramid but we will also travel around the lake and learn how to use different fishing conditions to our advantage, come up with a strategy and see how our guides choose fishing techniques including wading and float tubing locations throughout the year. This program is designed for intermediate to advance anglers who want to learn the real secrets of becoming one of the most efficient Pyramid anglers and have the confidence to use the entire lake.
Included: Transportation, Hot Lunch, ladders and gear etc.
2017 Dates – Anytime for groups of 2 or more. Contact us for more info on one angler Dates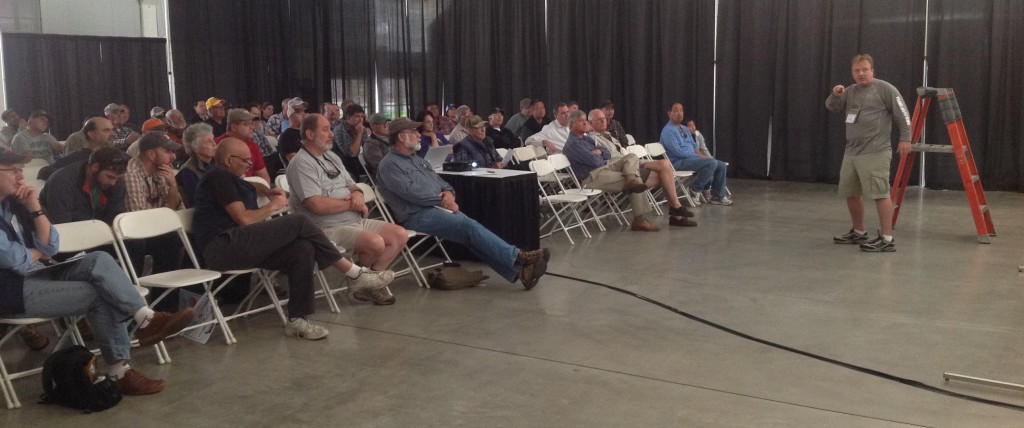 Pyramid Lake Presentations –
Rob Anderson has been giving slide shows and now Power Point Presentations around the country for over 10 years. Yearly venues include consumer Fishing shows, Club Meetings, Corporate outings and Charity events. Rob even designed a program for his advanced Stillwater Outings where anglers enjoy a full Power Point presentation Lake side using a generator for power at popular venues such as Davis Lake. These presentations have moved Rob into celebrity status at the annual Pleasanton Fly Fishing Show held in February and are maybe the most attended programs at this show each year. A few others have tried to copy Rob's program over the years but none have the knowledge, the teaching ability or the stage presence that make this one of the all time great presentations that evolves and changes each season.
2016-17 Venues include:
July 19th 2016 – Amador Fly Fishers
February 17th 2017 – Pyramid Lake Celebration (Reno Nugget Resort)
February 24th-26th 2017 – The Fly Fishing Show (Alameda County Fairgrounds Pleasanton California)
For more information on how to attend one of these events or to schedule your own event don't hesitate to contact us.
Rob@pyramidlakeflyfishing.com  775.742.1754