Welcome to our information page for our group and club Outings. We are really excited to hopefully have you as one of our guests for the upcoming season. This page is set up for groups to give potential participants some added information on what this fishing adventure will look like and how much it will cost. We will use our two day outing as an example of how our program works. If you have any questions we have not covered here please do not hesitate to contact Rob Anderson at 775.742.1754,  rob@bucketlistflyfishing.com
Our two day outings are full days on the water. We fish around 8 hours on average each day. Any gear for the trip can also be provided at no cost if we have some advanced notice. We also have corporate Rates at a few hotels in Reno that are at your disposal during your trip. Yes we will be spending part or most of the trip fishing from a ladder!!!
Fishing Days
We usually meet at the hotel valet area early in the morning and caravan/carpool to the lake. One of the best things about fishing Pyramid is that all the anglers get to fish together and it makes for a great group setting. We will rig up and fish for a while at a desired location in the morning where we will have a light breakfast (included) right on the beach. Hot coffee, Donuts, Hot Bagels and Cream Cheese are the normal type of breakfast. Depending on the fishing and the weather we can opt to move around during the day or stay in one location. As the morning rolls along we will give a couple of quick clinics on the water with the group and get everyone up to speed with fishing techniques as soon as possible. One on one instruction is also given throughout the trip as needed. We hope to spend most our time netting fish!!!
A hot lunch is served for the group and is a big hit with most of our returning guests. Homemade Turkey Noodle Soup, Grilled Ham and Cheese Sandwiches, Grilled Sausages and Hamburgers are all part of our group lunch menu. Having hot food and coffee at the lake can really rejuvenate the soul on a cold day at the lake.
At the end of the day we will make a plan for day two and either meet again on day two at the hotel or directly on the beach at the lake and do it all over again!!!


Hotel Information
We have outstanding rates at several hotels in Reno. We work closely with the area resort properties Standard hotel rooms with either one or two beds can be arranged for $39-$49 per night and deluxe two room suites for as little as $79 a night. Even if you do not gamble which most of our guests do not, the resort hotels in Reno have much to offer. 24 hour food at various restaurants and the ability to have a morning or evening meal without driving is maybe the most important. Early morning Coffee is another. Staying in a nice room with comfortable beds and a hot shower can rejuvenate the soul for another day of chasing fish. There is also a few camping options at Pyramid Lake including an RV park with full hook ups and dry camping all around the lake. The hotels we use in Reno are anywhere from 30-40 minutes from the lake.
The evening before the first day of fishing it can be arranged to have one of the guides meet the group at the hotel for a question and answer session. This time can really make the first morning go really smooth. Groups with a lot of first time anglers to the lake really benefit from this. One of the anglers should reserve a suite instead of a standard hotel room to have room for this service and to also have a place for the anglers to go for a cocktail hour. Sometimes we can even get a special deal on a suite for the host of the group. (This is awesome benefit for that person trust me)
Our trips are $190 per angler for two days total per angler. This includes guides, food, ladders and any gear anglers may need, things like rods, reels, waders etc. That is $95 a day for a fully guided trip. We ask that the group is between 6-12 anglers. Larger and smaller groups can also be arranged. We have had as many as 20 anglers for one of our outings. (We have a lot of ladders) The only thing not included on our trips is a tribal permit to fish the lake and any tips and or gratuities.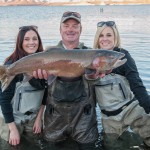 We hope you will join us this season for a fun and exciting fishing trip to Pyramid Lake. We have been hosting group and club outings at Pyramid for 15 years. There is no other fly fishing destination in the world like it. The setting is perfect for a group outing and this is a chance to catch a fish of a lifetime. The Lahontan Cutthroat Trout that roams Pyramid Lake is the Largest Cutthroat Trout in the World. Anglers commonly catch fish in the 5-10 pound range and last season alone we caught and released 23 fish over 10 pounds during our guide season including 9 fish over 15 pounds.
Once your groups trip is set with a date and enough anglers we will send out another information page for your trip that includes information on booking hotel rooms and an equipment list. We also provide information on tying flies including video tying instructions for the avid fly tier.
In the mean time if you have any questions or would like to talk about the trip please feel free to call or email Rob Anderson at (775) 742-1754 or rob@bucketlistflyfishing.com
We really look forward to making your trip a special one and we can't wait for the opportunity to take you fishing.
Rob Anderson
Reno Fly Fishing Outfitters
Pyramid Lake Fly Fishing